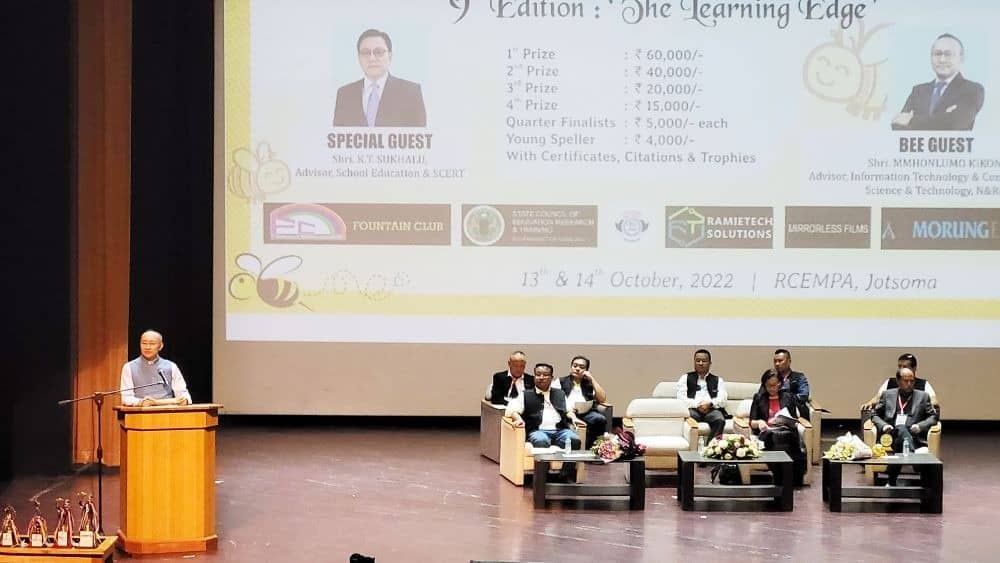 Mmhonlumo Kikon speaking at the inaugural function of 9th Nagaland Spelling Bee Championship 2022 on October 13. (Morung Photo)
NAGALAND
13th October 2022
Our Correspondent
Jotsoma | October 13
The 9th edition of Nagaland Spelling Bee Championship 2022 under the aegis of Fountain Club Kohima in collaboration with State Council of Educational Research & Training (SCERT), Nagaland commenced today at Regional Centre of Excellence for Music & Performing Arts (RCEMPA), Jotsoma near Kohima under the theme 'The Learning Edge.'
58 students from 29 educational institutions from Kohima, Dimapur, Tuensang and Phek districts joined the championship, which will continue till October 14.
Addressing the inaugural function as 'Bee Guest,' MmhonlumoKikon, Advisor, Information Technology & Communication, Science & Technology and New & Renewable Energy, Government of Nagaland, described the event like Spelling Bee championship as critical to the growth of the competitive atmosphere and ego system among the schools in the state.
Asking the Fountain Club and SCERT to scale up the event, he said that their efforts will eventually impact for the growth of the state and assured all possible support from the state government.
He challenged the students to improve their vocabulary and develop reading habit to get through various competitions.
"We are very focus on our curriculum," he said and challenged the schools to go beyond the curriculum and ensure that the students are trained to understand the words diligently.
Asking the students to learn more new words, he said "Lack of vocabulary will hamper your growth in learning."
"If you have a rich vocabulary, you will learn anything easily," he said.
Also encouraging the schools to undertake more co-curricular activities in their own level, Kikon said "Only then, we will see a citizenry of skills, intelligent and competitive people who will contribute to the growth of the state positively."
The advisor maintained that informed citizen is the most important ingredient for the growth and development of the state than anything else.
When you are informed, the level of discussion and debate grow. But, when you are not informed, you are only asking questions because you are ignorant of what is happening and the level of discussion wears negative, he said.
But, when you are well informed, the level of discussion is positive for the growth of the state, he added.
Spelling bee helps promote literacy
In keynote address, SCERT Director, N ChumchanbeniKikon appreciated the Fountain Club for taking various initiatives in harnessing the talents and skills of the student community.
Since its inception in 2011, the Nagaland Spelling Bee Championship has been able to create an excellent platform for participants and organizers to gain substantial experience, showcase skills, analyze and evaluate outcomes and uncover personal aptitude, she said.
"It is a good avenue to develop their ideas and skills. The Spelling Bee Competition aims at creating awareness of the possibilities of using varied words in oral and written expression and to add words to the active vocabulary of students," Kikon said adding that it also encourages young children to develop their spelling skills and vocabulary as well as developing their poise for public speaking.
Spelling bee help promote literacy by providing children with a positive goal to work toward, and give them a forum to display the fruits of their hard work.
The objective of the competition is to enhance the spelling and literacy skills of the children by encouraging them to explore the English language, expand their vocabulary and improve their communication and comprehension skills, she said.
"This helps students to cultivate a reading culture in the young minds, creating a platform that would make education attractive and a worthy adventure to embark on. This competition also helps the children to familiarize with the spellings, pronunciation and usage of many unfamiliar words," Kikon said.
She maintained that spelling is a complex skill and an important part of writing, adding "Good spelling is also a social expectation and contributes to clear communication of a written message."
Appropriate words with correct spelling conveys right message. Spelling is important because it aids in reading. It helps cement the connection that is shared between sound and letters. Language plays an important role in all round development of a student, she maintained.
Spellers qualified for Round of 32
After the conduct of the first round today, the organizers announced the spellers who qualified for Round of 32.
It includes; Ibrahim Ali (Community Education Center School, Dimapur), Mughava Alphonsa, Novinü Vitsu (Little Flower HSS, Kohima), Neipukhrie-e Dolie, Kethoneinuo Rhiitso (Living Tree School, Kohima), Keneicheno Rhiitso, Pelengunuo Tsiirho- (Mezhür HSS, Kohima), Leni Imsong, Lulu Nienu (Minister's Hill HSS, Kohima), Lipuni Puche, Alisha Kumari (Model HSS, Kohima), Nikito Chishi (Mount Hermon HSS, Kohima), Kezevinuo Kintso, Kevin J Johnson (Mt Sinai HSS, Kohima), Arenchila Longkumer, Kekhriengunuo Solo (Northfield School), Vinika N Chishi (Pilgrim HSS, Dimapur), Ochaliro Amer, Imnasenla Ao (Rev Dr Neilezhü Usou Memorial School, Kohima), Likina G. Wotsa, Tsunivi Chishi (Rincho Academy Dimapur), Mhalu Hoshi, Zovelu Thele (Royal Foundation School, Phek), Thinkhela L Sangtam (St John's HSS, Tuensang), Salevizo Kuotsu, Molungsunep Imchen (The Vineyard School, Kohima), Joina Riipreo, Phamying Anghwanhu (Trinity School, Kohima), Taliibi Trakha, Pratyasha Pattnaik (G Rio School, Kohima), Abigail Ngailite and Ele Kapfo (Alderville HSS, Kohima).
Closing function
Meanwhile, the closing function on October 14, have been scheduled at 3:00 PM. Nagaland School Education & SCERT Advisor K.T. Sukhalu will grace the function as the special guest. Daniel Thong from SCERT will talk on "Reflections" while vote of thanks will be proposed by Fountain Club Chairman S Kevisavi Hibo. The Spelling Bee Championship is organised in partnership with The Morung Express, Ramietech Solutions, Crystal Cables Kohima and Mirrorless Films.
The champion will be awarded with a cash prize of Rs. 60,000 while runner-up will receive Rs. 40,000, 3rd Position- Rs. 20,000, 4th Position- Rs. 15,000, quarter finalists- Rs. 5000 each and Young Speller Award- Rs. 4000.