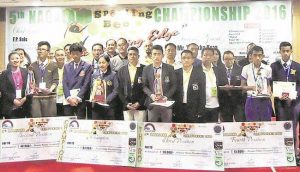 Watiyangla Kichu class 12 of Model higher secondary school Kohima who spelled correctly the words streptokinase, Ubiquitous, Braille, Gauche and Flugelhorn in the final round made her champion of the 5th Nagaland spelling bee championship 2016 held at capital convention centre Kohima on Saturday.
The two-day state level spelling bee championship was organized by Fountain Club Kohima in partnership with State Council Educational Research & Training (SCERT), Nagaland.   
Watiyangla Kichu walked home richer with Rs. 60,000 (sponsored by Er. Krosii Rhetso chief engineer R&B Nagaland) trophy and certificate. The 2nd  prize was bagged by Vetho Ringa (class 10) of Coraggio school Kohima and he received Rs. 40,000 (sponsored by Beizo M. Kuotsu controller & HoD LG&CP) and certificate, the 3rd  prize bagged by Shanchobemo Murry (class 11) of Model Hr. Sec. School Kohima and fetched with Rs. 20,000 (sponsored by Kevipodi Sophie DRDA project director RD Dept.) and the 4th prize bagged by Mahesh Pandey (class 9) of Christiana memorial Hr. Sec. School Dimapur and got Rs. 15,000 (sponsored by Vizo Zhasa manager main branch Kohima NScTB).
 The quarter finalists were Hangsing (class 11) of Ruzhiikhrie Govt. HSS, Imlikala Imchen (class 11) of DBHSS Kohima, Ivy Grace (class 12) of Modern college Kohima and Ahmed Rayza Muhaimin (class 10) of Charity school Kohima, they all received Rs. 5,000 each sponsored by Atu Zumvii SDPO Kohima.
 President Tenyimi people's organization and senior advocate Timikha Koza in his address as the special guest of the closing function congratulated the Fountain club Kohima for successfully organizing the spelling bee for 5 times. 
 He assured to the organizer to sponsor the champion of the next championship.
The closing function was led by Medo Yhokha, Kekrieseno Ringa presented special song while vote of thanks was proposed by Seyievizo Tsiikrii advisor Fountain club. The special guest and additional director SCERT Jack gave away the prizes to the winners.   Altogether, 63 participants from Kohima, Dimapur and Peren districts participated the event, with 34 boys and 29 girls from 37 educational institutions.